April 2021
American chestnut volunteer week!
The lab's work to find and aid conservation efforts for American chestnut was highlighted by the American chestnut foundation on Twitter as a Partner in Education!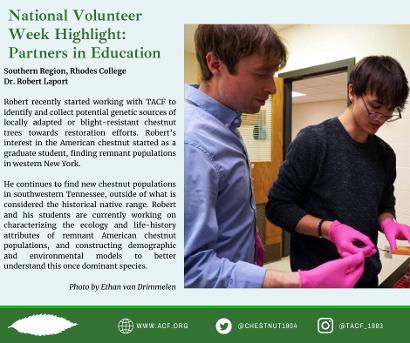 March
2021
Restoring the American chestnut
Rob gave a presentation on the lab's American chestnut research in southwestern Tennessee and northern Mississippi to the Wolf River Conservancy as part of their Wolf River Restoration Series and annual tree planting event! Over 100 people attended the seminar that, along with a presentation by J. Hill Craddock (Univ. of Tennessee-Chattanooga), focused on finding, conserving, and restoring American chestnut to the forests of eastern North America.
Rob was also invited to be a panelist for the Chestnut Chat Series hosted by the American Chestnut Foundation! The theme of the panel discussion was "Exploring Big Questions for American Chestnut Restoration." Over 300 people attended the panel discussion and posed some very challenging questions about biodiversity and restoration.
JULY 2020
Botany in virtual space
The Laport Lab was well represented at Botany this year! Ellie gave a talk on stomatal size and density variation across the Larrea tridentata polyploid complex, while Zoe and Brian presented a poster on their demographic model of the American chestnut in southwest Tennessee. Rob presented phylogenetic work done with former student, Khoa, examining the relationships and potential geographic origin of the most recent common ancestor of sister species, Larrea tridentata and L. divaricata.
Three new papers out!
Will's paper describing the machine learning program he developed, LeafMachine, is out! It is part of an Applications in Plant Science special issue, "Machine Learning in Plant Biology: Advances Using Herbarium Specimen Images."
Two other papers have also just been published about the lab's American chestnut work! The first reports remnant populations in western New York, while the other reports new chestnut populations in southwestern Tennessee that are outside what was considered the historical distribution. An exciting discovery that made it worth bushwhacking through tick-ridden forests!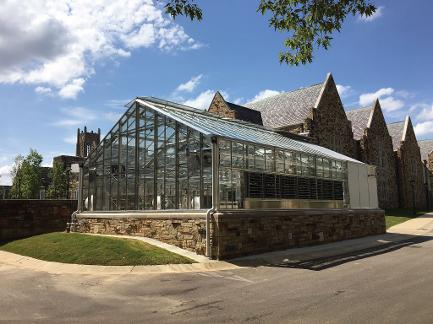 June 2020
New gre
enhou

se!

The new Rhodes College greenhouse is finished and the creosote has moved in!
October 2019
The University of Tennessee at Chattanooga
Rob headed east to give an invited seminar at UT Chattanooga. A fun visit and a chance to check out the herbarium!
july 2019
Botany in Tucson, AZ
Rob was invited to give a talk in the "Species delimitation in polyploid complexes" colloquium, while Will gave not one, but two presentations (a talk and poster) on his machine learning software,LeafMachine!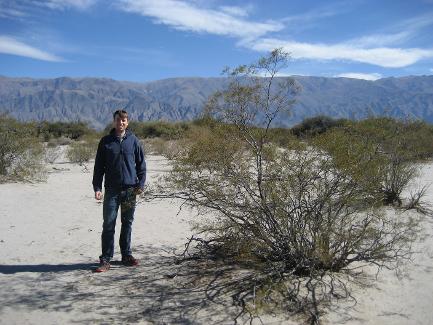 Field work in Argentina
Rob traveled to northern Argentina and drove nearly 3000km in a week to collect samples of Larrea divaricata, the sister species to creosote bush. The Laport lab will use the DNA from L. divaricata to start clarifying the relationships between this species and creosote bush, estimate when they diverged using molecular clock analyses, and identify the source of dispersal from South to North America using models of molecular evolution. You can read more about Rob's Argentina adventure in the Rhodes Biology Department's Biofeedback Newsletter.
MAY 2019
Revitalizing monographs at UCLA, CA
Rob was an invited participant at an NSF-funded workshop to discuss ways to rejuvenate and recontextualize biological monographs, finding new ways to communicate concepts of biodiversity.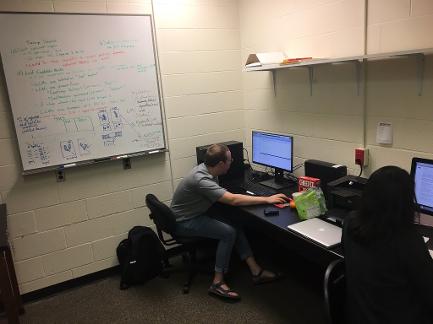 LeafMachine power collaboration
The Laport Lab welcomed Will for an intensive week of LeafMachine development and manuscript writing. Looking forward to the final softwareproduct this Fall!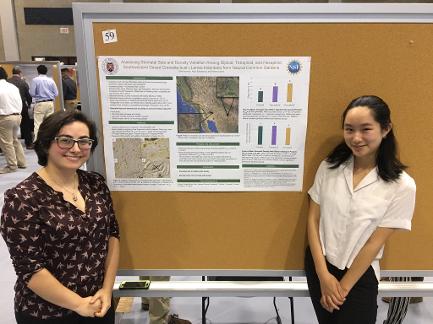 April 2019
Stomatal research poster presentations at Rhodes
Congratulations to the first Laport Lab undergraduates, Ellie and Abby, for presenting their research examining stomatal size differences in 2x, 4x and 6x Larrea tridentata at the Rhodes Symposium!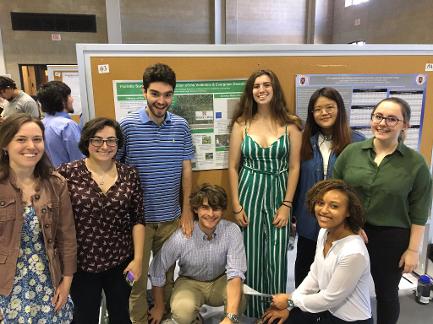 April 2019
Floristic survey of the V&E greenline
What a way to end the semester! Plant Diversity & Evolution undergraduates presented the results of their hard work at the Rhodes Symposium.
April 2019
St. Paul's School, Concord, NH
Rob headed north to St. Paul's School to give an invited seminar, participate in classes, and tour the greenhouse. Had a blast chatting to SPS students and learning about their research interests!
March 2019
Portland State University, OR
Rob traveled to the Pacific Northwest to give a research seminar at Portland State. It was great catching up with former student, Jessica!
FEBRUARY 2019
University of Memphis, TN
Rob was invited to give a seminar at the University of Memphis. Great making connections with local evolutionary biologists!
JANuary 2019
Plant & Animal Genome, San Diego, CA
Rob was an invited speaker for the Polyploidy session at the PAG XXVII conference. Genomic research in polyploid plants has come a long way!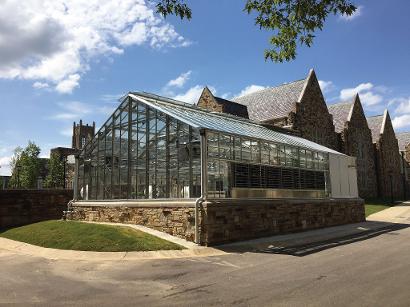 AUGUST 2018
Temporary greenhouse nearly complete!
Just in time. In a couple of weeks, Will is going to be driving all of Rob's Larrea plants from Boulder, CO. Excited to have the greenhouse filled with >100 plants!
AUGUST 2018
New lab open at Rhodes College!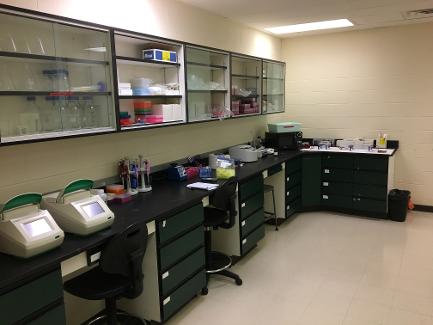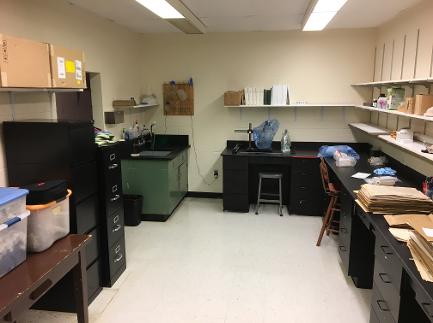 AUGUST 2018
Ecology in New Orleans, LA
Julienne, Will, and Rob take the show on the road again, this time to the Ecology meetings. Julienne was invited to give a talk on phylogenetic methods for inferring community structure leveraging data from the National Ecological Observatory Network. Rob riffed on these ideas as they relate to polyploid species, and Will introduced LeafMachine, his new machine learning software for autonomously extracting trait measurements from digitized herbarium specimens.
JULY 2018
Botany in Rochester, MN
Headed to the Botany meeting to present on the biodiversity consequences and considerations of polyploidy. Many great interactions, catching up with old friends, making new friends, and plenty of great talks!
AUGUST 2017
Ecology in Portland, OR
Will presented a poster of research results examining the phylogenetic relationships among species in plant communities and the incidence (or susceptibility) to non-native species.
June 2017
Evolution in Portland, OR
Rob and Julienne attended the Evolution meeting in Portland. Rob presented research developments on pollinator visitation biases to diploid, tetraploid, and hexaploid L. tridentata. They also presented results of their joint community phylogenetics research.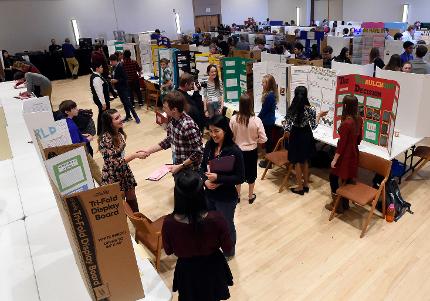 MARCH 2017
Boulder Valley Schools Science Fair
Rob and Julienne judged scientific contributions from budding young scientists at the Corden Pharma Regional Science Fair hosted at the University of Colorado-Boulder. It's always a blast discussing their innovative experiments!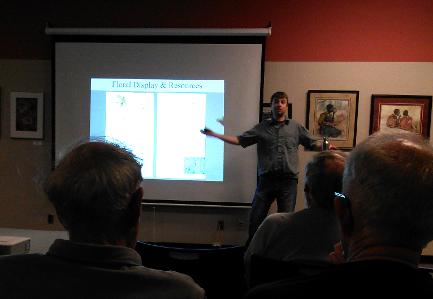 March 2017
Arizona Native Plant Society
Rob was invited to speak at the Tucson Chapter of the AZNPS about differences in pollinator visitation and pollen load composition on Larrea tridentata in areas where the different cytotypes occur sympatrically. This was shocking to some in attendance, who had some great ideas for future research paths, and they also started looking at that ubiquitous desert shrub in a new light.
FEBRUARY 2017
Evolution Family Day at University of Colorado-Boulder Museum
Rob participated in a museum outreach activity at the UC-Boulder Museum for young students and community members to showcase how humans are shaping the evolution of other species. This included discussing antibiotic resistance and domestication. Rob helped run a booth designed to illustrate natural selection for children and their families using colored candies, cloth "habitats," and vision bias glasses.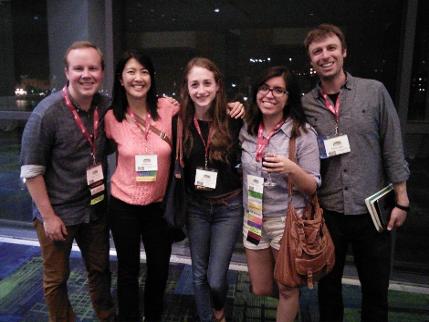 JULY 2016
Botany in Savannah, GA
The research group takes over Savannah! Rob, Julienne, Will, Vivianna, and Shelly all presented research on various projects including polyploidy and community structure, invasive species, pollination, and flower color evolution. Awesome to attend in force and present research on so many different fronts. Everyone received constructive feedback and was energized by seeing so many great talks.
JUNE 2016
Evolution in Austin, TX
Julienne and Rob make the trek to Evolution to generate some interest in the community phylogenetics project using data from the National Ecological Observatory Network.
SEPTEMBER 2015
Colorado Native Plant Society
Rob was invited to present research on pollinator visitation biases to the different ploidies of Larrea tridentata at the CoNPS Annual Meeting in Golden, CO. It was a great time answering questions about the possibility that such interactions may be very common! Research in two of the best-studied polyploid species suggest ploidy-specific pollinator visitation: Heuchera grossulariifolia and Chamerion angustifolium.